Hi, I am building a node that does sensor readouts on a cyclic scheme and then sends the results via LoRaWAN. In my lab I monitor the power consumption from the battery connector using a Power Profiler Kit II. For a typical cycle, I get the following: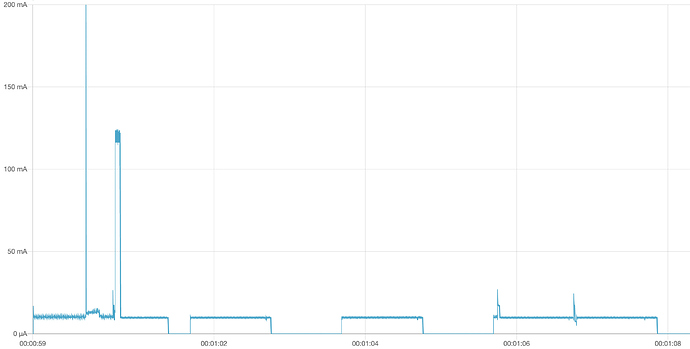 You can see the power-on of Vext as a large (270 mA) but very short (300 µs) peak due to a capacitor loading, then the LoRa TX as a 120 mA / 68 ms peak shortly after (this is for SF7 and of course it gets longer with higher SFs). The typical current when the device is awake is about 10 mA. In sleep mode it draws about 10 µA.
I wonder if it is possible to tweak the process after the TX while retaining the RX window(s) as more than ⅔ of the energy is consumed there. Any ideas?